Bible Truth & Prophecy
"In the beginning God created the heaven and the earth" (Genesis 1:1).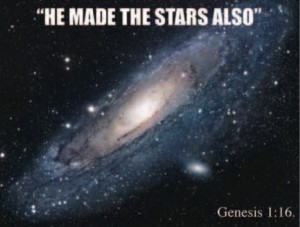 The Lord Jesus Christ and apostles all accepted the Creation record as written. (Matthew 19:4;  John 5:47;  Acts 17:24;  Romans 5:12 etc)
Evolution does not explain the origin of life or its complexity at the cellular level.  It affects our understanding of the purpose of life, and accountability to the Creator.  The moral implications of evolution, and the social consequence – chaos, irresponsibility – are clearly seen in society at present. Contrast the following points:
Evolution
Chance – chaos
No accountability
No responsibility
Creation
Order – purpose
Accountability
Responsibility
In the Creation record, God is not telling us HOW He performed creation, rather WHY He did it.
We are not told WHEN God created, it is simply "In the beginning".  The earth was "without form and void", or as translated by Rotherham "had become a catastrophe
View original post 287 more words